A recent report by the US Federal Trade Commission (FTC) notes that one of the most successful cybercriminal practices is known as the "romantic scam," which in 2020 accounted for more than $300 million in illicit profits, increasing the figures reported in 2019 by 50%.
This practice involves tricking a user through their social media profiles by pretending to be an attractive woman to establish a relationship and, over time, asking for money, sending items through parcels, gift cards, among other elements: "Sooner or later these cybercriminals will ask their victims for money using any excuse, whether it's an economic emergency, a birthday and even in recent times exploiting the problem of coronavirus," the FTC says.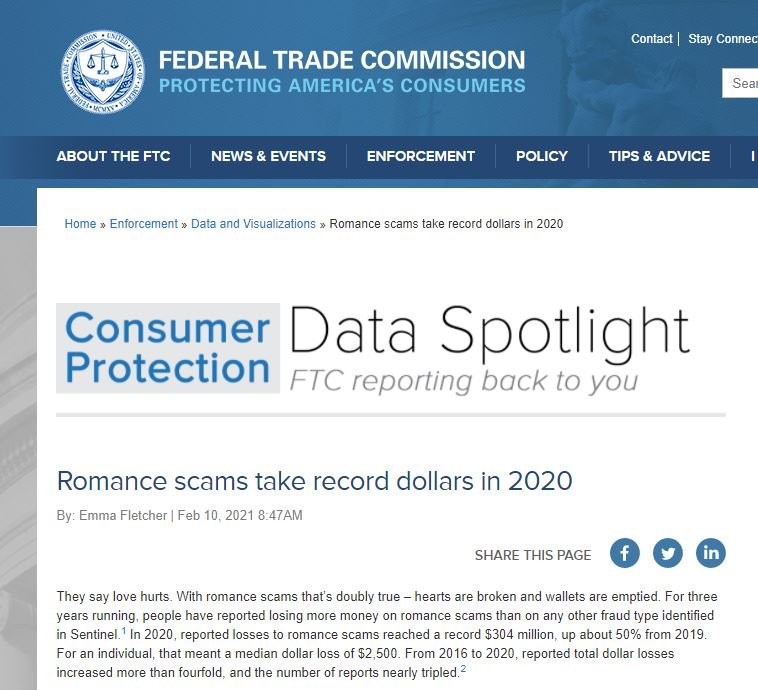 On the coronavirus, the Commission mentions that the health emergency certainly contributed to the increase in activity of these groups, as social distancing led millions of people to look for new ways to interact, mainly social networks and dating apps: "Criminals create very attractive profiles on these platforms to attract users, using stolen images of real profiles and invented names, although some raise the bet using stolen identities," the report says.
The FTC also mentions that victims can be tricked into participating in money laundering schemes: "Sometimes scammers send victims considerable sums of money and subsequently request that they be sent back to accounts controlled by threat actors. People think they're helping their love online, when they're actually helping to launder stolen money."
Specialists point out that, on average, victims of these attacks may lose about $2,500, 10 times more than losses generated on average by other variants of fraud. Moreover, the FTC mentions that this is one of the fastest growing practices over the most recent five years, increasing losses by more than 4 times since 2016. Losses vary depending on the age of the victims. The report mentions that while the group most vulnerable to this scam is males between the age of 20 and 29, people between the age of 40 and 60 suffer economic losses of up to $10,000 USD.
Valentine's Day happened just a few hours ago, so the cybersecurity community is waiting to see if trends in this will increase this year, which is highly possible considering the number of scams related to this holiday that have been reported so far.
To learn more about computer security risks, malware, vulnerabilities and information technologies, feel free to access the International Cyber Security Institute (IICS) website.
The post Romantic scams generate losses of over $300 million USD appeared first on Cyber Security News | Exploit One | Hacking News.
Go to Source of this post
Author Of this post: Daniel Tai